Forgot admin password windows 7 enterprise. Forgot the administrator password? The Sticky Keys trick 2019-03-13
forgot admin password windows 7 enterprise
Wednesday, March 13, 2019 11:51:31 AM
Elias
Reset Windows 7 Password Without Password Reset Disk
It worked for me by slaving the hard drive to another pc, then taking ownership boot to safe mode, right click the file, select properties and goto security tab of cmd. I couldn't get past the part where you press shift five times - when i do that it brings up a box which says 'Do you want to turn on sticky keys? Step 3: Reset forgotten Windows 7 password After it automatically boots your locked computer from the password reset disk, then you should eventually see the screen below. BitLocker is suitable because it is the best protection against password reset hacks. When the command prompt windows appears, type the following lines to change the password of your laptop. Below you will learn how to enable the built-in admin account in Windows 7 and Vista. A quick copy and paste via explorer then renamed cmd.
Next
Ways to Recover Windows 7 Admin Password by Yourself
I tried to change the new account to a Guest account from the original account so I could delete it but it wouldn't let me. I have a copy somewhere, I will have to try it. If you need to for the account with administrator privilege, keep on reading. Like a sub vehicle scheme. Exit the Command Prompt, and log in using your new password.
Next
How to Reset Windows 7 Password on PC & Laptop [Safe, Quick]
Having no reset disk seems the underlying trouble when a password reset disk is your first thought in this situation. As you are now the owner of the computer, and likely the company assgned a bulk Enterprise key to the Enterprise nstallation, I can't see any legal issues being transgressed. Next, select the user account that needs to reset password on Windows 7 from the list, and click on Reset button, the program will begin resetting the account on your Dell machine to blank empty password. My problem is that when I happen to forget a password, I have already long forgotten where I placed the recovery disc. I have tried everything with no luck.
Next
Windows 7 Admin Password Reset with 3 Ways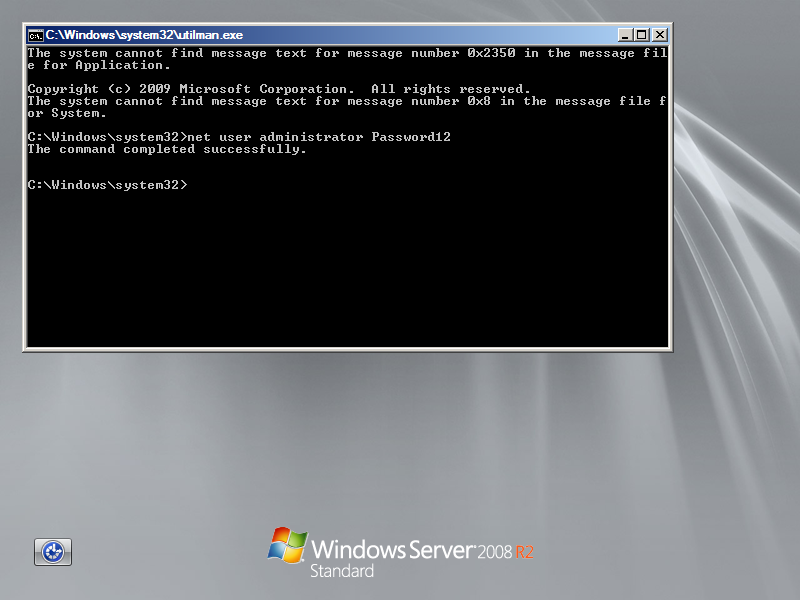 Others have addressed this issue. Admittedly, I should have downloaded the latest version of the app before trying this, but I was in a hurry and it was late at night. It is understandable that if you didn't created a password reset disk before you got locked then it can be a very annoying and pedantic situation since you won't be able to reset the password for your computer or laptop. Reset Windows 7 Password with WinGeeker Ultimate If both methods above won't work for you, there is still another easy but fast way to help reset your Windows 7 admin or login screen password. I've done some googling re:how to reset the admin user account. I'm guiding friends through team viewer and it is hard to solve it.
Next
Stuck w/o Admin password or ability to connect to domain
These are my problems, do I use a third party software??? Thanks for the help and info. The next screen is the Setup screen which gives you the option to do a Repair. Follow the next steps on how to recover Windows 7 password. I want to get around this without a full destructive reformat. I am not a tech person at all and followed your instruction to the letter.
Next
How Can I Reset My Windows 7 Password?
The screen told me the command completed successfully. Download and install on that accessible computer. It is easy to carry-out to recover Windows 7 administrator, as well as standard user account password. I put a password on my laptop yesterday evening that I thought must have been correct, but somewhere I think I made a mistake and now can't log into my laptop. A standard user cannot do this. Take the picture above as an example, the password for the administrator named iSumsoft has been set as abc. I did this and when the screen saver came up I was no longer able to login.
Next
Windows 7 enterprise lock out; only displaying admin user
So, if you could figure out your password by just looking at your password hint then it could easily resolve your issue. Some instructions required some thinking but we figured it out. Sorry for my english, but hope this could help others people. You're locked out of your Windows 7 machine. Then it boots normally, but no luck.
Next
Forgotten Password Workaround? Solved
I got to it once last night this way but i was using someone elses instructions and they didnt work. Arun Hi again, I found the solution by chance. No, but all that is done outside of the present installation on the drive anyway. Thank you very very much, struggled to get rid from this tragic situation and installed several free trial softwares, using password reset disk and still failed on those and finally with this wonderful solution relieved from all the pressures and now able to log in to my system successfully. Shortly after the Copying Files stage, you will be required to reboot. I have studied computers for tlhree days now.
Next
How to Reset Windows 7 Password with or without Reset Disk
Otherwise it works on the screens before n after. Then click Reset Password button below the user list. I would like to set it up as a spare but cannot add or update any programs as the passwords I have are for the users who had limited account access. . When the burning is complete, pop this system password reset disc into the locked computer.
Next